XGAMES: Eric Bird Huffman Interview
Collectors exist at different levels of an aesthetic/psychological spectrum. Roughly speaking, their world is broken into thirds — on one end you've got the connoisseurs, in the middle the hobbyists, and on the far end you've got the hoarders. Walking into Bird's Surf Shed, these tried and true distinctions immediately become a whirlpool. An old quonset hut that originally held Eric "Bird" Huffman's board collection but now also houses his new surf shop, the Shed is more of a hands-on museum than commercial outlet. On the day I walked in, Bird sat eating pizza with early Pipe legend Joe Roper and a clutch of old friends. The arcing walls above them were filled with colorful boards made, surfed and stowed away in their lifetimes. But ah, what an auspicious time to be a surfer.
How It Began
The first board Bird ever "collected," was a Mike Hynson "Hy-II" that he traded a pair of trunks for. It's still here. The rest came to him "almost every way you can think of." Bird started his career as a grom in a surf shop, had owned and managed companies, and now it looked like he mostly sold stories. Not many of these boards are for sale. But it's not a static collection either — some are out on loan, being surfed. Just about all of the 460-odd pieces in his collection fit what Bird calls "journeymen" surf craft, meaning that they didn't win championship titles but were instead surfed by regular surfers. The thing about these "journeyman" boards is: as you move backward in time the surf world gets increasingly small, and an everyday board quickly becomes a link in design DNA.
One of the first fifty blanks Skip Frye ever put a planer to rests next to a classic Mike Hynson, the work of two guys who used to surf and shape next to each other at Gordon and Smith. There's a Diffenderfer and Brewer thruster, both made within weeks of Simon Anderson's unveiling of the design. Things were happening so fast, Bird says, "They were mostly working off of pictures." That's an important point on the connoisseur aspect of his collection. You can literally watch rails evolve by comparing a number of Hot Curls produced in a six-month period, or by assessing the down-rail conversation between Australian and American shapers of the mid-'70s. Or even by appraising the history of one shaper, as each phase of shapers like Hynson, Caster and Rusty are represented.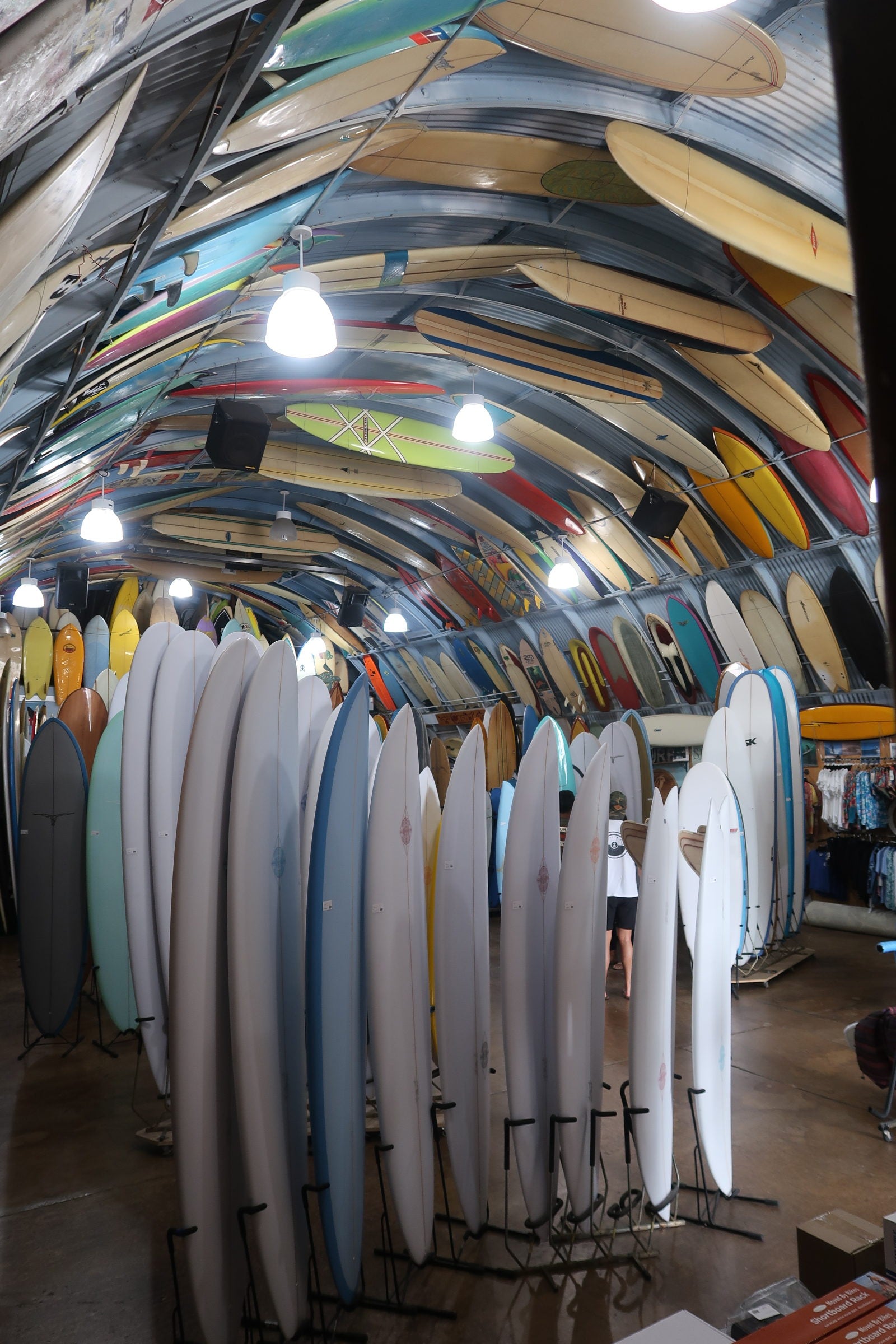 But like a traditional hoarder, looks and condition don't dint the fervor with which items are collected. In fact, some of the ugliest boards are the real treasures. Many of these are "ghetto glassed," meaning that the finish work was done in an alley or parking lot somewhere, joint in hand. Looking over a couple, you notice that the tint of the glass just seems off. This is because they were glassed from the same barrel of boat resin, a barrel one shaper stole from the docks and the rest of the shapers shared in. Of these boards is Bird's most personal, a 1973 Steve Lis. The old fish has no stringer because Bird bought the blank as a second from Mitch's for five bucks. After it was shaped, the lack of stringer caused Lis to off-set his hand-drawn logo. Bird was on hand to complain, so Lis drew a new logo next to it. In the water, it was the best board Bird had ever owned. The design slid along so fast, it was compared to a bar of soap. When Bird's needed a repair, he took it to Select Surf Shop for a professional job. Once fixed, however, the board sat on the Select rack with a $30 price tag on it — the cost of the ding job. Unfortunately, some shop rat sold the board to another customer on the basis of that $30 price tag. Decades go by. Bird's renown as an appraiser of rare boards swells along with his collection. So one day a client sends Bird a number of photos in an email for assessment, and there's the Lis. Bird wanted that ghetto-glassed board so bad, his horse-trading skills went out the window, and ended up giving the guy a rare Parish that had been surfed in the Duke.
There are boards here that a connoisseur wouldn't blink at, boards a hobby-est wouldn't understand, boards a hoarder would appreciate only as one more on the pile. As Bird began to close up shop for the day, the quonset hut is silent and empty, he says, "Times like this, in the mornings or when I'm closing, I just look up and I hear all these voices, all these people. Every board tells a story."